Iron Man 2 movie is an upcoming 2010 American super hero film set to be released May 7 in the US. A lot of buzz has been going around about the awesome Halloween costumes that have been released to coincide with the new movie.  Just the song alone is addicting! You listen to it once, and it is in your head.  The ripping guitar strings that come in get you amped up and ready to go!  The Iron Man 2 Costumes have followed the same suit.
Film star Robert Downey, Jr. once again plays the role as Tony Stark, an industrialist and master engineer, also known as the superhero Iron Man. The costume is sure to raise some eyebrows!  Check out the Iron Man 2 (2010) Movie – Iron Man Mark 6 Super Deluxe Adult Costume. The armor and the light up chest just seep with male testosterone. Once she sees your rocket launcher you are certain to have the women falling all over you!  What man doesn't want that? Super Deluxe Iron Man Mark 6 Costume from the Iron Man 2 movie includes the full jumpsuit with enclosed hands and shoe covers, shoulder pieces, chest piece with light up arc reactor, thigh pieces and the full character helmet.  If you don't want to wear the helmet all night check out the Iron Man 2 Movie  – Tony Stark Facial hair. The women will love your sultry goatee.
A mysterious and dangerous foe emerges as Ivan Vanko played by Mickey Rourke. He is the son of Russian scientist Anton Vanko. Ivan creates an alternate and powerful persona known as Whiplash in order to take revenge on the Stark family.  You can bring this colorful character to life with the Iron Man 2 (2010) – Whiplash Adult Costume.  If you already have this chiseled physique I'm sure you don't have problems with the ladies, but this costume can only help your chances. No woman can resist a bad boy with whips!  The Whiplash Costume includes the sculpted chest piece with glow reactor and glow faux whips.
Don Cheadle in the sequel Iron Man 2 plays Lt. Colonel James "Rhodey" Rhodesalso known as the War Machine. He is Iron Man's partner.  He became one of Stark's closest associates and confidants as well as Stark Industries' chief aviation officer. Every woman loves a loyal man that has power and a chest like that! Adorning this Iron Man 2 Movie – War Machine Classic Muscle Adult costume you are sure to score some points. War Machine Deluxe Adult Muscle Costume from the Iron Man 2 movie includes the jumpsuit with muscle torso and muscle arms, glow print and full character helmet.  She is sure to feel safe out on the town with you in this!
Ladies we have not left you out of this! Scarlett Johansson plays the sexy sassy role of Natalia Romanova  also known as the Black Widow, an undercover spy for S.H.I.E.L.D. posing as Stark's assistant. OHH now that's just sexy! Putting on this sexy skin tight Iron Man 2 (2010) Movie – Black Widow Sassy Adult Costume .  No man will be able to resit you in this hot number! Black Widow Sassy Adult Costume from the Iron Man 2 movie includes the jumpsuit, belt and pair of cuffs. Boots sold separately.
These Halloween costumes are sure to get you some attention.  If you feel you are still needing more, we have found some really great video's of some TRUE Iron Man fans that have taken things to the extreme!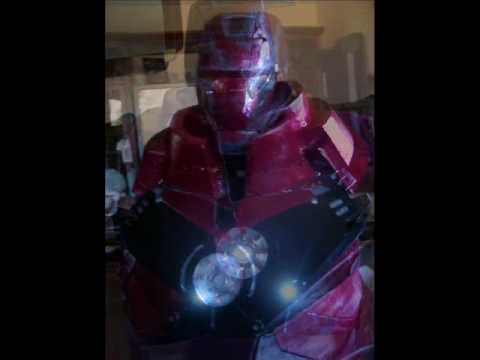 Now check this out!