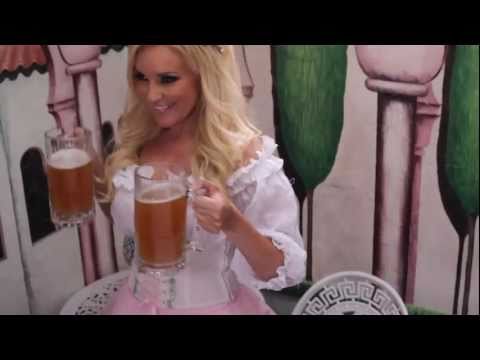 UPDATE!! Sorry to say that Roma and Bridget will not be teaming up for this Halloween season in 2012. Total bummer! We still will have all of the super HOT sexy Halloween costumes 2012! Be sure to check them out!
HalloweenAndCostumes.com is proud to bring to you a brand new line of Halloween costumes for 2011 from Roma! Roma has teamed up with Bridget Marquardt and have come up with one of the sexiest fun line of costumes yet, Bridget Costumes By Roma.
Roma costumes is a leader in the Halloween costume industry. They have been established since 1990. They provide high quality products. All products are designed strictly at their facility in the USA!
Bridget Marquardt, star of reality television series "The Girls Next Door," has taken her passion for Halloween to Roma Costume. Marquardt is former Playboy Mansion resident and former Hugh Hefner girlfriend. The Bridget Costume Line is an exclusive selection of premium quality costumes designed for women who are looking for a unique and custom look with a bold and sexy feel.
The two coming together will be a dynamic duo for the customers looking for sexy Halloween costumes.  Bridget Marquardt has wanted to make a sexy costume line, but she needed a partner company with the know-how to bring her vision to life. She found it in Roma Costume. According to Alan Breeden, sales manager of Roma, Sam Fard and Marquardt form an ideal design team. "We are both playing on our strong points: Sam brings his know-how and experience, and Bridget brings her exciting design ideas," he said. "She loves Halloween and always designs her own costumes. Now, with the help of Sam, she has the ability to make her ideas available to anyone who wants a high-end, stand-out costume."
Bridget and Roma came up with 17 total styles for the introductory costume line for 2011. Several of the Halloween costumes are three-piece outfits with matching bras, waist cinchers and a skirt. This makes them very versatile. You can wear the outfit as a two-piece for a really sexy costume event, or, if you want to be a little more conservative while still keeping that sexy look, you can wear the waist cincher.  The waist cincher is not your normal cheap costume piece. It is the real thing with boning that gives you a great hourglass shape. Three or four of the costumes are available in the line come in plus size. If the line goes well this year they will be adding more of the sexy plus size costumes to the line.
Bridget has had so much fun being a part of the costume line.  She already has plans for next year. She wants to do pet costumes and couple's costumes. One of her ideas is to make a men's Neptune to go with the Mermaid. She also thinks that adding matching shoes and purses to go along with the costumes would really add something to the already super sexy line!
HalloweenAndCostumes.com is proud to say that we are going to be carrying all of the costumes that the Bridget from Roma line has to offer.  The full line is already up on our Halloween costumes site and we are offing preorders on the entire line. The costume line will be completed and ready to ship by the end of August or beginning of September.  These are going to be the hot best selling costumes for the 2011 season. Get yours before it is to late!
Check out what the Bridget costumes from Roma has to offer: