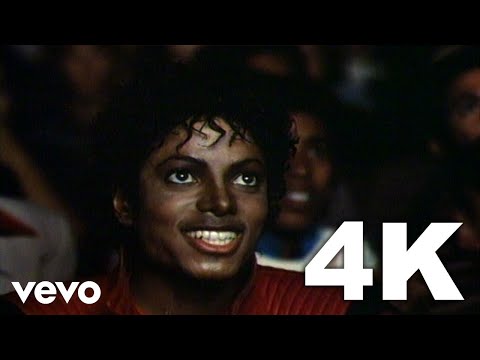 This epic tale is often referred to as the greatest music video ever and was also voted the most influential pop music video of all time. Michael Jackson's Thriller proved to have a profound effect on popular culture, and was called "a watershed moment for the music industry" for its unprecedented merging of film making and music, Thriller inspired Scary Costumes for years to come. Thriller was Jackson's SEVENTH top ten single FROM THE SAME ALBUM! Other singles you may remember from the Thriller Album: Beat It, P.Y.T, and Billie Jean. The fourteen minute video is significantly longer than the song (Song starts at 4:40), which ties together a story featuring Jackson and actress Ola Ray in a setting heavily inspired by horror films of the 1950s.
In this 50′s setting, Michael and an unnamed girl wearing an iconic 50′s school girl costume run out of gas in a dark wooded area. They walk off into the night and Michael asks her to be his girlfriend. After she accepts he warns her that he's "different" than other guys. Shifting clouds reveal a full moon and Michael begins transforming into a horrifying werewolf. She screams and runs away and Michael pursues her. Then it cuts to a movie theater with Michael and his date watching the fore-mentioned scene unfold amongst an enthralled audience. Micheal's date gets scared  and leaves the theater, he catches up with her and tells her "it's only a movie". She denies being scared and they take a walk down a foggy road as Michael teases her by singing the verses of Thriller. They pass a nearby graveyard, in which the undead begin to rise out of their graves. The zombies corner the two threateningly, and suddenly, Michael becomes a zombie himself. In the video's most iconic scene, Jackson leads other actors in zombie costumes in a choreographed dance routine, and the rest is history.
Thriller did garner some criticism for its occult theme and violent imagery, but it was immediately popular and received high critical acclaim. It was nominated for six MTV Video Music Awards in 1984 and won three. In 2009 it became the first Music Video ever to be added to the Library of Congress National Film Register. Below are some of the new Halloween costumes 2012 has to offer for Micheal Jackson and zombie costumes. They are sure to be something to munch on.