James Cameron's newest Academy Award winning masterpiece, Avatar, is set in the year 2154 on the breathtaking Earth-like planet Pandora.  Pandora is a magical planet where the native inhabitants, Na'vi are a blue, 10 foot tall, peaceful blue-skinned species of sapient humanoids.  Scientists grow Na'vi-human hybrid bodies called avatars that are operated via mental link by genetically matching humans.  Following the film's success, Cameron stated that there will be at least two sequels! Can't wait to see those!
Keep the magical world of the Avatar alive this Halloween season.  Show up to your Halloween costume party in on of our top selling Avatar costumes.  You will never look at Halloween costumes the same again.
Jake Sully who is a paraplegic war veteran that falls in love with Neytiri.  Want to be the star of the show and help save Pandora? Show up to your party dressed as the hot fictional character Jake Sully Deluxe Adult Avatar Costume.  This costume comes with with the khaki pants with tail, shirt and mask.  If you really want to go all of the way add the spear that you see in the picture.  Ditch the mask that comes with the costume and add the Avatar Movie Jake Sully Adult Wig.  Then checkout the videos below to do your makeup just like the movie!
Neytiri is the film's female Na'vi protagonist, princess of the Omaticaya! Bring this sexy magical character to life with the Avatar Movie Sexy Neytiri Adult Costume!  Team this up with the Jake Sully costume and you are going to take home any prize a costume party has to offer.  The Neytiri costume comes with Full Body Suit with tail, Apron, and Gauntlet. To complete the look add on the Neytiri Deluxe Adult Wig and videos below to do your makeup just like the movie!
Check out these videos so you to are able to pull off Avatar movie makeup and bring your character to life!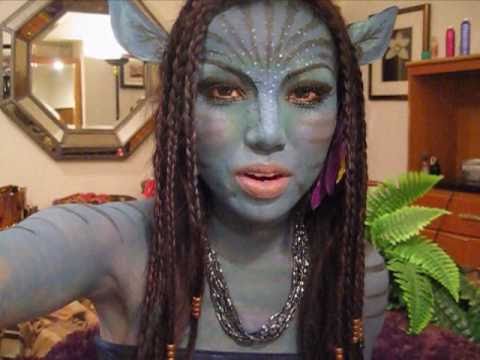 This is the full instructions on how to bring it all together!  Very cool!